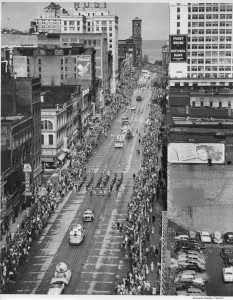 Everyone loves a parade… but perhaps not quite as much as those who live in Pierce County. After all, it isn't just one parade that we love, but really four, trekked across the streets of Tacoma, Puyallup, Sumner, and Orting, all in one day.
For almost nine decades, the Daffodil Festival Grand Floral Parade has been a community fixture, and local herald of Spring, one that brings with it bright blooms and an even brighter Royal Court, winding through the streets on a chosen day in April.
However, from four parades in one day, to one parade across ten days, the Daffodil Festival Grand Floral Parade is certainly going to look different this year. After coronavirus broke out across the country last March, the Daffodil Grand Floral Parade quickly became one of the major events to get cancelled; a feat not last seen since WWII brought the festivities to a halt back it the 1940s.
While plenty missed the golden yellow cavalcade parading through the streets, the folks at the Festival were already thinking towards the next year, and by what means the Parade might return. After all, this wouldn't be the first time the Festival has had to bounce back from difficulty; it simply meant going back to the innovative thinking that has allowed its continued presence in the minds and hearts of Pierce County for more than 87 years.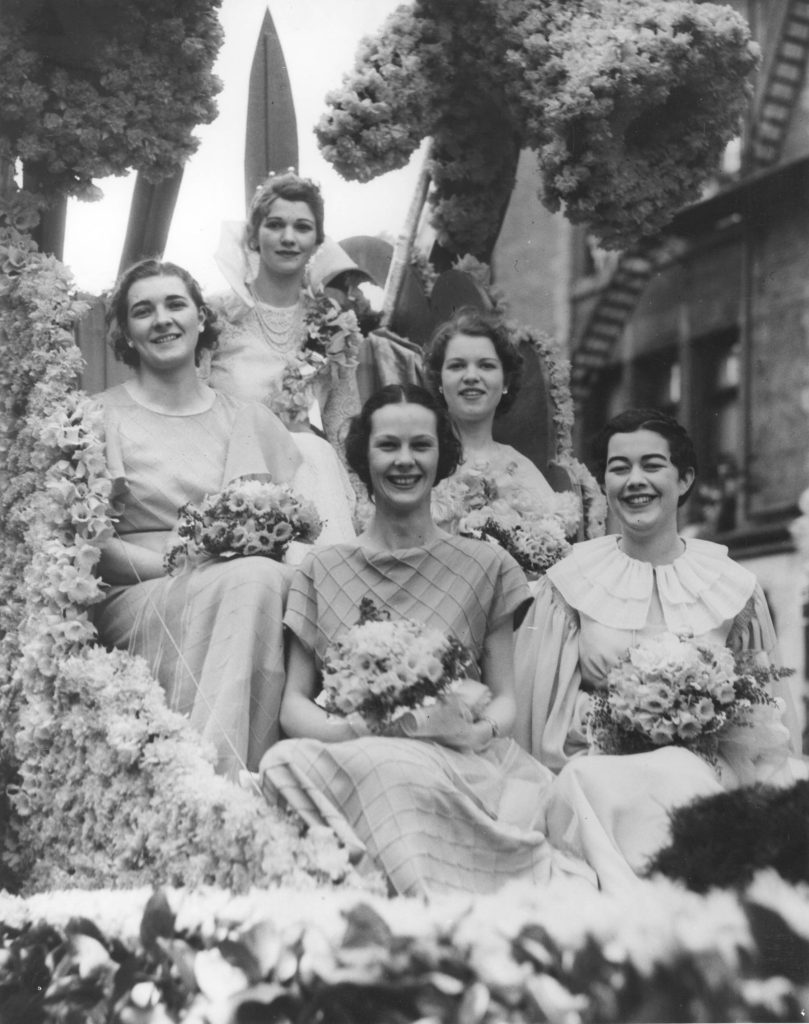 PARADE HISTORY
Originally taking the form of a garden party enjoyed by local dignitaries, the Grand Floral Parade truly first began its historic journey in 1934, with floats, cars, bicycles, and more, bedecked in those vibrant yellow blooms for which the Puyallup Valley had gained a local notoriety. Parade organizer and daffodil enthusiast, Lee Merrill, decided that such a celebration merited a queen of similar beauty, and asked Elizabeth Lee Wotton – a local twenty-eight-year-old he'd noticed passing by on the street – if she'd be willing to take on the task. Four days later, she joined a Princess and Flower Girl on the helm of what was not even a float, but a viewing platform, in order to take in the Parade from a more elegant height. Three years later, the Festival had not only become an annual event, but gained its official designation as a non-profit organization.
However casually the gathering and its associated celebrations began, it quickly became a fixture of Pierce County annual events. The Royal Court served as a prominent inclusion, only growing over the years as its direction skewed younger, towards honoring a group of local high school women, as more and more schools joined in with the Festival's direction of community involvement.
The Parade itself is no longer only a means by which to proudly display the daffodils growing in the Puyallup Valley. If anything, the decline of daffodil population in the region has simply forced the group to shift perspective: there are still plenty of great things growing in Pierce County! With it, the Festival has similarly grown to approximately 180 entries, all representing various community and local groups, including school marching bands, pirates, clowns, and more.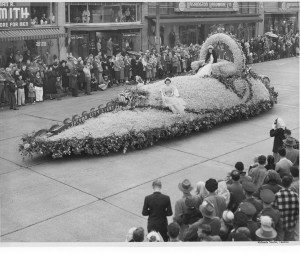 CHANGES IN RECENT YEARS
This kind of growth and adaptation is something that the Daffodil Festival is still known for today. Even in recent years, there has been further development, as the Festival seeks to offer the public new and exciting opportunities to get out, get involved, and see what the community has to offer.
In 2014,  the Daffodil 5K Challenge, a series of 5K runs nearing the start of each leg of the Parade, was added – thanks to a sponsorship from South Sound Running and Nike Running – encouraging Pierce County residents to get out and get active before the celebration began.
In recent years, the Parade has even found prime time viewing on TV, with the Puyallup leg of the Parade being broadcasted on Komo 4. (You can check out our 2019 rerun here!)
Recent Festival Grand Marshalls in charge of leading the Parade through its four fabulous stops have even been as varied as Tacoma Symphony Orchestra conductor Harvey Felder, television cooking personality Sandra Lee, local gardening guru Ciscoe Morris, and UFC Champion Miesha Tate.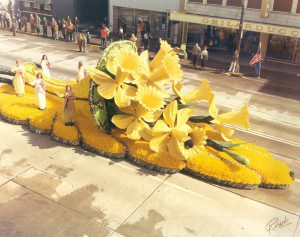 However, these years of accelerated growth were put to a cold, hard stop last year, as the advent of Covid-19 coincided with Daffodil Festival's favorite season. The Royal Court's Queen Coronation was cancelled, with no official monarch selected to rule over the 2020 Court, as these young women suddenly found themselves without much of a calendar for appearances. The Grand Floral Parade, which would have been crowding the streets only a month after the virus shut down public gatherings, was similarly scrapped.
Says Parade Director Bob Sudderth, "We were through with the planning last year.  As I recall, the cancellation was within a day or two of our application deadline.  In other words, we were ready to launch into the much more rewarding execution phase."
However, this year, in 2021, as fears of Covid-19 begin to abate in the face of major vaccine rollouts and the county begins to open up again, the Festival found itself eager to get back to what it does best: giving the residents of Pierce County a way to celebrate. However, it was clear that old methods of operation weren't going to work here, either. Instead, Sudderth had to turn his attention towards something entirely new.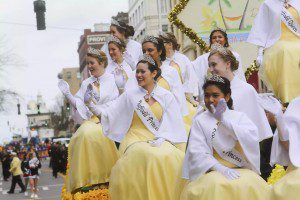 A STATIONARY PARADE AT THE FAIRGROUNDS
Because they couldn't usher the population of Pierce County back into the streets just yet, they could find other ways of reinventing it. What if, for instance, instead of driving their way through four grand cities, the cities could just drive and meet them?
A long-held partnership with the Washington State Fairgrounds made for a perfect solution: a stationary parade, offered in conjunction with plenty of other incredible pieces of the Spring Fair to enjoy, as well. Instead of its typical route, the parade would instead be parked in Puyallup, in a "static" setup that people could roll through with their families and friends.
Of course, there have had to be some tradeoffs: instead of being a free event, as the community has come to enjoy every year, the Parade is offered alongside the Spring Fair's other drive-through offerings. One ticket per carload of visitors gives you free rein to drive through the various event spaces across the Fairgrounds. Twenty of the various pieces and groups you can see are floats and displays that would typically find themselves a part of the Parade, being utilized in new ways this year to entertain fairgoers. And yes, you might just see some clowns and local marching bands there, too!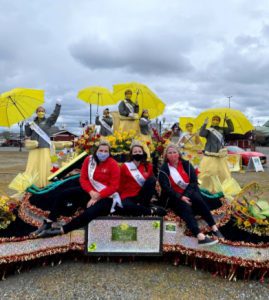 Most importantly, you still have your chance to meet the Princesses. Their theme this year is "Reach for Your Star," and this stationary parade is another means by which you can see these shining stars up close and personal. You might even meet some of the incredible young women you might not have gotten a chance to see in person last year, as over half of the 2020 Royal Court will be making regular appearances, as well.
However, we know that the Spring Fair's stationary parade is only temporary… the Daffodil Festival is already thinking about the ways that the Grand Floral Parade will change in the next year, and even the year after that! It's important to remember that no matter what form this annual event takes, it continues to represent the support of a community, the multitude of perspectives in Pierce County, and the joy of Spring.
With so many days on the calendar for the Spring Fair, you have far more opportunities to see this Parade than usual. Entry is offered across two five day periods this April, from the 7th through 11th, and 14th through 17th. Reserve your timeslot by buying tickets on the Fairground's website today!