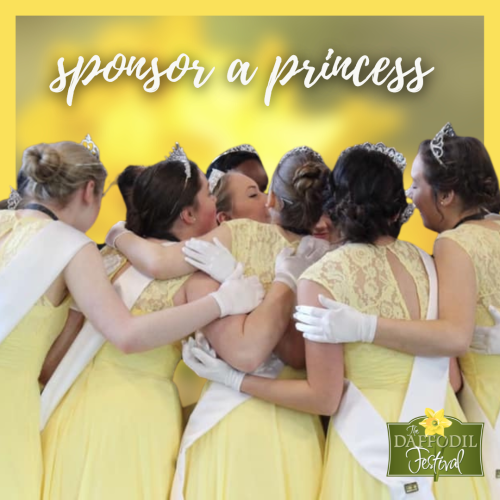 Would you like to sponsor a princess by purchasing her entire outfit for the season? Do you have a favorite school you would like to sponsor? Is there a message we can pass on to your princess?
Your princess will proudly wear her regalia to most appearances for the entire season. If you have never witnessed the glowing impression a Daffodil Princess has on a child, it is a sight to behold!  Many of these items are commemorative and become heirloom memorabilia for many years following a Princess or Queen's reign with the Daffodil Festival.
All Sponsor a Princess donations are eligible for a 501(c)(3) tax deductible donation receipt, mailed to you. As an additional thank you for your generosity, we would love to promote you, your organization, or business as a community partner on our website, Instagram, Facebook, and relevant print materials.
Thank you very much for supporting the young leaders of Pierce County!
Select Your Donation
Want to make an impact of a larger scale?
The Daffodil Festival is happy to discuss corporate sponsorship and in-kind partnership opportunities.
Fundraising Disclaimer: In the event our fundraising goal is surpassed, excess funds will be reallocated within the Daffodil Festival general fund. We value your support.
"Being a Daffodil Princess is in the top-five highlights in my life over the past 50 years."
- Laura G., Royalty Alumna
"Through leadership, empathy, compassion, and numerous other terms, being a Daffodil Princess allowed me to serve the community at the highest capacity and with the greatest effect."
- Kelsey M-B, Silas 2021
"The Daffodil Festival helped me build confidence and discover the passion I have for my community."
- Madison R., Lakes 2012
"It is an amazing event we have gone to the parade every year in Sumner since we moved here, my youngest has grown up with it and she really wants to be a princess when she is old enough. Thank you for all you do."
- Samantha
"The history, the present, the future. The Parade has been a part of my life since I was a child. So proud that our Sons of Norway is able to take part in our community by participating. So much fun!!"
- Teresa
"Everything about the festival is great!! It marks spring, time to celebrate. The time honored tradition of the Daffodil Parade and the princesses, floats and bands. such a great sight!!"
- Brenda