There's nothing quite as impressive, in the course of the Daffodil season, as the rolling splendor of the Grand Floral Parade. As we've been dazzled by the many gorgeous floats, marching bands, and group displays in the past – all bedecked in bright, cheerful swathes of yellow daffodils – it's hard to even consider the possibility that all of this raucous celebration could be organized by just a few guys in yellow blazers. At least, it has for the past few years, as long as Daffodilians Robert Sudderth and Scott Dellinger have been in charge.
So, to get to the nitty-gritties of this four-city spectacular, we decided to organize an interview with Daffodil Festival Parade Director himself, Bob Sudderth, and see just was kind of work it takes to throw this kind of a major community event. The short answer? It takes a village to launch a parade.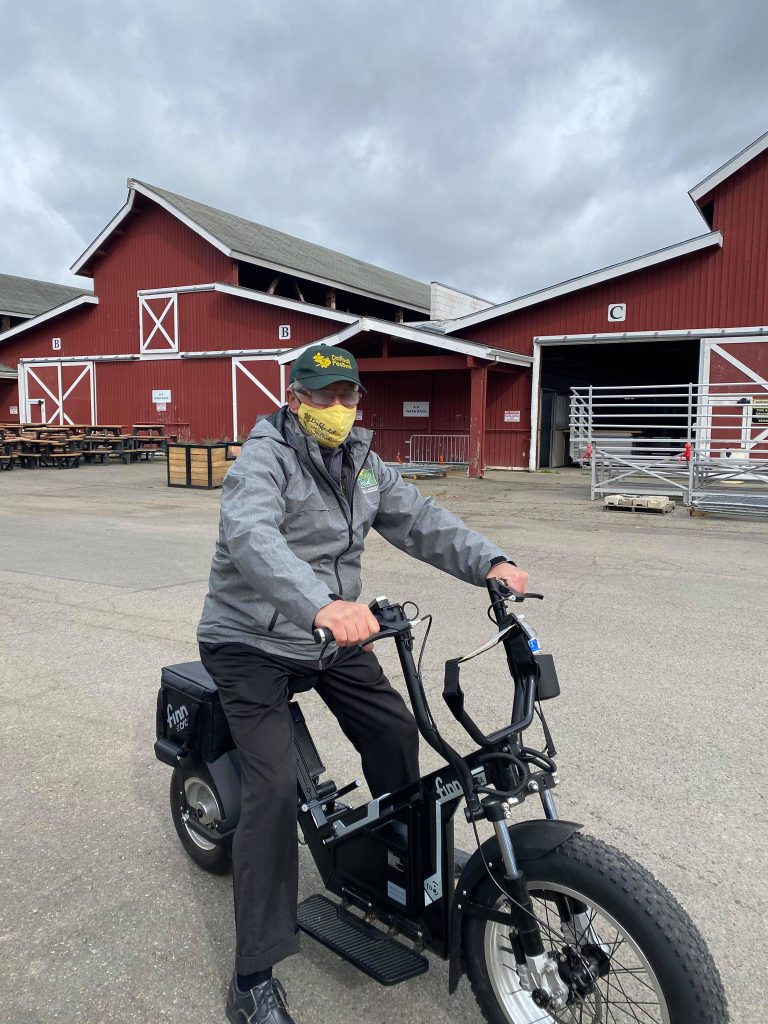 Daffodil:  When did you get involved with the Festival? How long have you been managing the Parade side of the organization?
Bob: Anitra [Sudderth's wife] and I got involved with the Festival in 2010, soon after retiring from our jobs in California. Anitra was a Sumner princess candidate and knew a few Daffodilians, so that was our connection.
For the first couple of years, I served as understudy and Deputy Parade Director for Jim Bradley.  Then I became Parade Director for five years, after which I became less active with the Festival and more active as a new member of the Daffodil Scholarship Foundation.
When our Executive Director bowed out, the Festival was in desperate need of a Parade Director with experience.  So in 2019 – 2020, I was back in the saddle.  Along with Deputy Parade Director Scott Dellinger, we were in firm control and ready to roll by mid-March, until the pandemic forced us to cancel the parade for the first time since WWII.
Daffodil: What sort of skills do you have to develop in planning out a Parade? What preparation goes into taking on this role?
Bob: Personally, I think it boils down to attention to detail and relentless follow-through.  Nobody bats 1000, but I make every effort to answer and return every phone call, respond to every email, and tie every loose end.  Juxtaposed with that is a sense of commitment to meeting every deadline, self-imposed and otherwise.
Coordination with four cities requires completing their application requirements months in advance.  Arrangements need be made for portable toilets, wash and garbage/recycle stations.  Transportation requirements include cars, buses, golf carts, reserved parking.  Coordination with South Sound Transit, Diamond Parking, the Puyallup Tribe, finding a Float Barn, JBLM, KOMO and Fremont Studios, Sparks Stadium, WADOT, Puyallup Kiwanis, Seafair Marshals, Puyallup Valley Flower, etc.  Coordinating traffic control and parade security with all four cities is a must.  Then there is the work associated with more than 100 entrants and tracking administrative requirements, such as insurance, hold harmless agreements, and fees.
I'm not trying to impress here, but just illustrate that there is a lot to do.  Four cities in one day over 26 miles is unique.  The big picture is daunting, but you start early, meet your deadlines, readjust priorities as necessary, cheerfully deal with the crisis du jour, and take it one day at a time.
I feel it is important to say that the Parade was in the hands of Jim Bradley for some 25 years.  It was easy to take parade preparation for granted because Jim always took care of it, year after year, longer than anyone could possibly have imagined.
Daffodil: What sort of team is instrumental to making sure the Parade goes off without a hitch? Who do you depend on to make a great Parade?
Bob: It's a process that involves most every Daffodilian before I get to give the signal that starts the parade in Tacoma.  A Deputy that can think on his feet and can be depended upon to get things done; we have that in Scott Dellinger.  The Puyallup Kiwanis and Seafair Marshals are critical players in Parade Day management.  Work, coordination and planning to get 23 Princesses moving in the same direction at the same time doing the same routine!  Princesses and staff have to be transported and fed and chaperoned.  Floats have to be judged.  Banners presented and trophies awarded.
Sure, there is plenty of planning and deadlines for me to meet along the way, but on parade day, it's everybody.
Daffodil: What challenges do you usually grapple with during typical Parade planning?
Bob: Well, that's a good question.  Sometimes it depends upon the day.  If you've forgotten something or there is a last minute cancellation, snafu or miscommunication.  But I would say the biggest challenge is managing the applications themselves.  Sometimes they are inaccurate or incomplete.  Sometimes you have to chase down fees, insurance verification, hold harmless and such.  Coming up with a line-up that's fair and makes sense.  Everyone wants to be in the front third of the parade.  Questions seem endless and hand-holding is often seems necessary. But everyone loves a parade and so do I.  To be your Parade Director is a high honor.  And to witness a successful Daffodil Grand Floral Parade unfold gives me a great sense of satisfaction.
Daffodil: How far into planning were you last year, when Covid-19 shut down the ability to have a Parade? What was your reaction?
Bob: My reaction?  Disappointment.  First, selfishly, for me.  Then the parade.  Then the Daffodil Festival itself.  I knew we would lose our connection with the community and our funding for 2020.  As a result, I figured we would be in a fight for our very survival.  But thanks to a dedicated corps of veteran Daffodilians and an infusion of young, energetic talent, we are climbing out of this Covid-induced tailspin.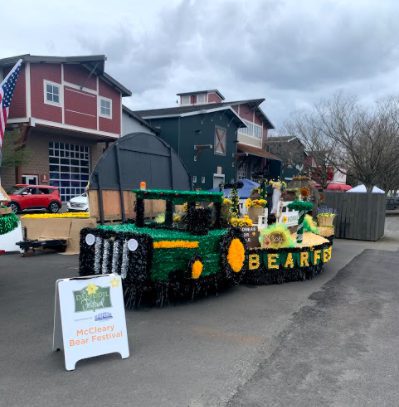 Daffodil: What does the Parade look like this year? What can people expect to see when they visit the Fairgrounds to see the Festival?
Bob: People are going to see floats, static and staffed displays that includes such diverse exhibits as antique tractors, Ford Mustangs, The Old Cannery, Washington Army National Guard, Pierce Transit, Orting Valley Fire and Rescue, etc.  The very first thing people will see will be the Daffodil Festival Traveling Float manned at all times with Princesses, along with the Daffodil Scholarship Foundation's display and our sponsor, the Old Cannery.  Of course, the Washington State Fair is not standing idly by… they have everything from racing pigs to dock dogs to mobile entertainment, too!
Daffodil: Are there any bright sides to planning a stationary parade, instead of one that winds through four cities in one day? Is there a reason people should check out the Parade this year, in particular?
Bob: The bright side is that we get to have a parade-like function.  We are back on the community's radar.  We get to serve the public, be Pierce County Ambassadors, support community activities, revitalize fund raising activities and give 23 high school princesses a chance to grow personally while supporting this iconic festival.  It's about getting back to normalcy.
I hope people will check out the Parade this year so that they can see for themselves that this traditional "celebration of community" that began in 1934 is back, and we plan to stay back!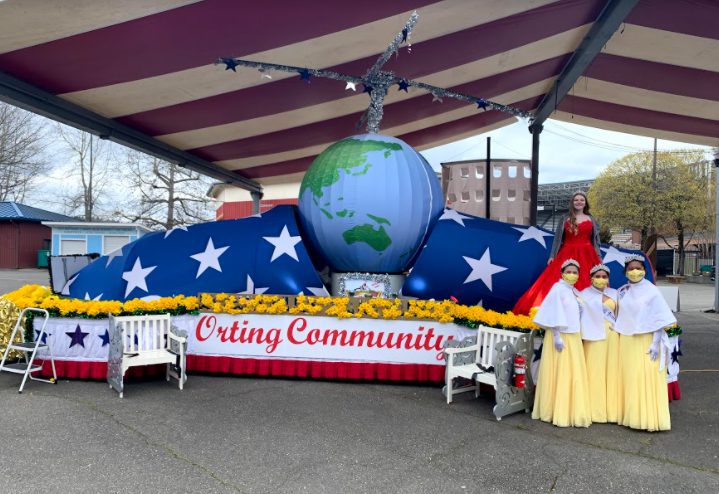 Daffodil: What is your personal favorite part of the Parade? What do you like to see every year?
Bob: For me as parade director, there is a magic moment at about 10:00AM in Tacoma, slightly before the beginning of the first leg of the traditional Daffodil Festival Grand Floral Parade.  You can feel the energy and excitement.  Behind you is a flag unit and a military band.  Behind them are the Grand Marshal, Queen's Float and VIP's in convertibles.  And behind them are many more bands, floats, mobile units, and flags representing schools and communities all over Washington and Pacific Northwest.  Than at the appointed hour, you get the eye of the lead motorcycle police officer and give the signal for the parade to begin.  It's an emotional moment.  The parade now has a life of its own.  Your work is done, so you move to the side and just enjoy as it passes by.
Daffodil: Have you had a favorite Festival / Parade theme in the past? What Parade theme would you like to see someone choose?
Bob: Last year's parade theme was shaping up to be my favorite – "Honoring the Past".  To me, that means honoring those who came before, those who carved a nation and a culture out of the wilderness that enabled us to build a great nation.  Especially those who taught us the value of hard work, honor, honesty, responsibility and compassion.
I would guess that my chosen parade theme would be something both patriotic and historic.  Something that would give all of us an opportunity to identify those things that have made our country and the people in it great.  I'm open to suggestions!
Want to get a glimpse of Bob's stationary Parade for yourself? There are still tickets available to visit the Spring Fair this weekend, through Sunday the 18th! Buy them now, at the Washington State Fair website.