The Daffodil Festival meets its Princesses at a very significant moment in their lives: in the Fall of their Senior Year of high school. Their resumes boast many notable accomplishments in scholarship, extracurriculars, community service, and more, partially because they've been working so hard to boost these resumes for college acceptances across the four years of school. "Daffodil Princess" itself is yet another title of honor worth including; however, it's bestowed with the knowledge that there's still so much growing to do.
Now, as college students start to gear up for first classes, those introductions really do feel like a lifetime ago. It's incredible to see the amount of work and dedication this year's Royal Court has put into growing into their titles and tiaras since they were first chosen by their schools in October and November of last year. The knowledge that now, almost a year later, our Princesses are that much closer to moving on to bigger and better things is at the forefront of our minds.
In June, our Royal Court swapped their beloved tiaras for mortar boards, and each graduated from the twenty-three participating high schools that comprise the Daffodil Festival, complete with a shiny new diploma. We could not be more excited to see where they will bloom next!
Before they head off on all of their future adventures, we asked our 2022 Royal Court about what their graduation plans will entail, what they'll always remember about their high school, and how Daffodil fit into the mix.
WHERE ARE YOU GOING NEXT?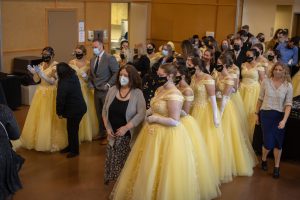 The Daffodil Festival Scholarship Program bestows a generous scholarship to each of our 23 participating royals on a yearly basis, and it feels like each year, we're impressed by the limits to which our Princesses take that funding to follow their dreams. For some, that means staying local, and taking opportunities afforded by our excellent local community colleges to pursue their degrees.
For instance, Princess Willow, from Lakes High School, already intends to work in the healthcare sphere. "I plan to be a Radiologist or an ASL (American Sign Language) hospital translator, [and will] be attending Tacoma Community College to study Radiology Science."
For others, it means moving to various four-year programs throughout Washington State, to pursue their undergraduate degrees.
Bonney Lake High School's Princess Kaitlyn will be off to Bellingham, attending Western Washington University, pursuing her interest in Secondary Education. "My eventual goal is to become a middle school science teacher. I know that I've had some wonderful teachers who gave been a major influence in my life. I hope to become a safe adult for kids to look up to and learn from."
Princess Isha, from Lincoln High School, is journeying on to the University of Washington Seattle campus, in order to study Political Science. "I'm passionate about the Political Science major because I want to learn how the government works, especially in terms of legal policies that disproportionately affect underserved communities."
Pullman is the intended destination for Princess Darya, from Puyallup High School, where she will be attending Washington State University, pursuing her interests in Computer Science and Music. "I would eventually like to work in the music and technology field because I think there are many areas of this field that haven't been explored yet."
And still others are venturing out further, to different states entirely, for programs that will hopefully lead them only further towards their goals.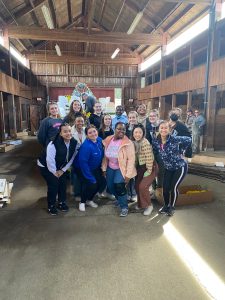 For instance, Spanaway Lake High School's Princess Sydney knows that moving across an ocean is more than worth it if it means protecting valuable wildlife and environmental resources. She'll be studying at the University of Hawaii at Hilo, intending to major in Marine Science. "I believe helping the ocean is a concrete step to helping the world… I want to go to college and become an Oceanographer to help the environment thrive, so we can continue living in this beautiful planet we call our home."
Princess Zana, from Bethel High School, will continue on to Howard University, with an interest in studying International Business. "I'm a people person, and I love interacting with people. Because of this, I believe communication is the most important skill I can learn in the world, and one day, I hope to be able to say I mastered the skill of Communication and Public Speaking!"
Meanwhile, other Princesses will be venturing further still, with aspirations our friends at Joint Base Lewis-McChord would no doubt applaud.
For Princess Lilly, from Clover Park High School, graduation means joining the military, just like she's always aspired to do. "I plan on serving in the United States Armed Forces for a minimum of 20 years, working my way up to commission. Since I was a little girl, I've dreamed of serving for my country, and I love the general idea of security and stability I will receive."
WHO HAS INSPIRED YOU ON YOUR HIGH SCHOOL JOURNEY?
With such wide and varied an array of future destinations, you can imagine the amount of support and encouragement they've received from the mentors in their lives, who have enabled them to dream so big! Those chosen inspirational few who helped usher them through the past four years have no doubt shaped the ways in which these Princesses will continue to sparkle. For many of our Royal Court, parents have always been a guiding force in not only their career pursuits, but in their Daffodil journey, too.
Queen Clara, from Curtis High School, has been vocal about the support and motivation provided by her family throughout her Daffodil adventures. "My family! The support and selflessness they have modeled through this whole process has given me strength and tenacity."
For Sumner High School's Princess Maeson, that family connection was made all the more valuable throughout her time as a member of the Royal Court. "My mother has been the most impactful on my high school journey. She has always been there for me during the hard times, and has been my number one supporter through my accomplishments… She was also the reason why I did Daffodil in the first place, not because she told me to do it, but because I wanted to experience something that she spoke so highly of. Growing up, I was always told how amazing it was that my mother was the Daffodil Queen, but I didn't understand the meaning of that accomplishment until I became Daffodil Royalty myself. Getting to experience something my mother got to do when she was my age is so incredibly special, and I will never take for granted the privilege it is to get the opportunity to do so."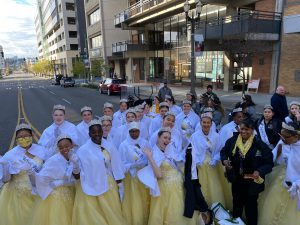 And as the Daffodil Festival so highly prioritizes scholastic accomplishments – and as each Princess serves as a representative of their high school – it stands to reason that there are plenty of teachers who've helped form their paths, as well.
Princess Nakiya-Rene, from Washington High School, found that having a mentor through all four years of high school made for one of her biggest cheerleaders. "My teachers, specifically my teacher Mr. Booth. He has been my leadership teacher since I was a freshman, and he has continued to be the most persistent in encouraging me to be my best self. He has never once doubted me, he's challenged me, and he's overall taught me so much. Because of him I'm the way I am today!"
From Silas High School, Princess Andrea knows that teachers can play an integral role in the schools of which they serve as faculty. "My English teacher, Mr. Rogers, has been an incredible role model and vital figure within our classroom community. I've had the privilege of being in his class since sophomore year, and I know that Silas High School is very lucky to have him. Through English, he has helped me cultivate my own voice and think critically about the world around me… His support for each and every one of his students is inspirational."
Graham Kapowsin High School's Princess Kaely found some of her most valuable mentors were the ones who inspired her to dream big. "My band directors, Mr. Stewart and Mr. Hendrick, for being inspirational and supportive. For reminding me to always follow my dreams and desires even if they aren't what you originally planned, and to always explore possibilities as you may find something better than what you thought you would. And my PBS (Principles of Biomedical Sciences) teacher, Mrs. Wurdemann. She was my 'school mom' and an amazing teacher. She has given my hope, perseverance, and reminded me to find joy even in the hardest of times."
HOW HAS DAFFODIL PREPARED YOU FOR YOUR GOALS?
When it comes to setting their sights on future plans, our Daffodil Royalty know how to reach for the stars. We're more than happy to play a role in helping them go the distance!
Princess Julia, from Rogers High School, believes in the importance of a great first impression… something she learned from Daffodil. "Making sure I remind myself that every day is a first impression of myself to someone… [m]eaning that I will forever represent myself."
Stadium High School's Princess Caitlyn feels she benefited most from the focus on development of her public speaking skills. "I've become a lot more confident in my speech and delivery skills. Although I'm still not super well-spoken, I've improved a lot and feel a lot less nervous to talk in front of crowds."
Princess Amber, from Orting High School, believes that the professional development in place throughout Daffodil's Princess Practices were key in her future career goals. "It helped me to practice being a professional, with resume building and practicing interviews."
For Franklin Pierce High School's Princess Victoria, the lessons Daffodil helped teach her gave her the inspiration she needed to be herself. "The Daffodil Festival has influenced me to take a stance for myself. As a Princess, you are taught confidence. Be unapologetically you!"


The 2022 Royal Court is on the move. All aboard, for the 2022 Tacoma Yacht Club Marine Parade! [photo courtesy of the Daffodil Festival]

Princess Julia, from White River High School, is thankful that her work with the Royal Court introduced her to so many different audiences. "The Daffodil Festival has showed me what true community is! It has taught me skills that I will use in the real world, like working as a team and speaking to all different types of people. I plan on being a teacher one day, and the Daffodil Festival has helped me get more comfortable with working with all different ages of kids, parents, and adults!"
For Mount Tahoma High School's Princess Thien-Ha, Daffodil formed an instrumental role in gaining her confidence back, after the Covid-19 pandemic affected her high school experience. "I was a very social kid before COVID happened. But during the quarantine period that we had to go through, I became very closed off, shy and insecure. I always doubted myself and didn't believe that I could achieve much. Being a princess has given the opportunity to make new friends and connections, it made me go out of my comfort zone to do things I didn't know that I could… it made me believe in myself… That I am worthy and amazing, and capable of achieving amazing things."
WHAT ADVICE DO YOU HAVE FOR THE INCOMING SENIOR CLASS?
These Princesses have lived a full year of notable experiences, encompassing not only busy school course loads and extracurriculars, but also, the hefty schedule of a Daffodil Princess. You can bet they certainly know a thing or two about how to make the most of your Senior Year!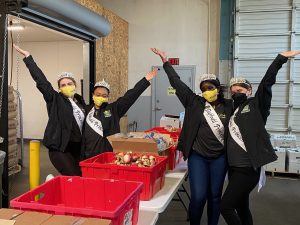 When asked about what they'd like to say to the incoming senior class, they had no shortage of great advice:
Princess Arin, from Emerald Ridge High School, knows a thing or two about a jam-packed schedule: she not only contended with school and Daffodil filling up space in her calendar, but her cheerleading team won big at state this year, too! Needless to say, her advice is all about taking your time in the busy moments: "I would say to take it all in and be present, because Senior Year is stressful and so much fun, but goes by so fast."

Princess Faith, from Chief Leschi High School, wants to make sure you're making the most of every opportunity that presents itself to you… and taking lots of pictures along the way! "Take every opportunity you can. [Y]ou never know the people you'll meet and the places you'll see, and also don't take it for granted… by all means, please take pictures and videos everywhere, and everything you do in school or with your classmates… [I]n ten years from now, it will be so cool to look back and reminisce when you were a senior in high school."
Fife High School's Princess Samantha wants to make sure you make some memories, as well. "Please take it all in. It's going to go fast, so go to the football game you're considering attending, perform in that assembly, hang out with that person you haven't talked to since seventh grade. This is the last leg of a thirteen-year chapter in your life, so finish strong and truly put forth an effort to leave a legacy wherever you go."
Princess Alexis, from Eatonville High School, says to remember that staying true to yourself while getting to graduation is of the utmost importance. "Work hard, and don't worry about your status in school. You will soon realize people come and go, but you should always be yourself, so you are happy with who you are."
Princess Aiysha, from Foss High School, believes that self-care makes all the difference in your senior year. "Take it slow, but not too slow. Learn now how to balance and prioritize things in your life. The more you do that, the less overwhelmed you will feel and you won't be drowning in your own stress. Please remember to take care of yourself as well… because if you're not, your work and efforts will be lackluster, and not what you want. Don't do what someone else says is your best. Do your own best, strive to be the best version of you that you will ever be, and that is enough. You are enough. Never forget your worth and value. There is always going to be someone rooting for you, even when you think you're totally alone. You got this!"
And one thing is for certain: they'd encourage you to run for Daffodil Princess, of course! Congratulations to our 2022 Daffodil Royal Court, and the graduating classes of our twenty-three participating Pierce County High Schools. We are continually astounded by the intelligence, talent, perseverance, and more that the young people in our communities have to offer. Best of luck in your next endeavors… we're all rooting for you, and can't wait to see what you accomplish next!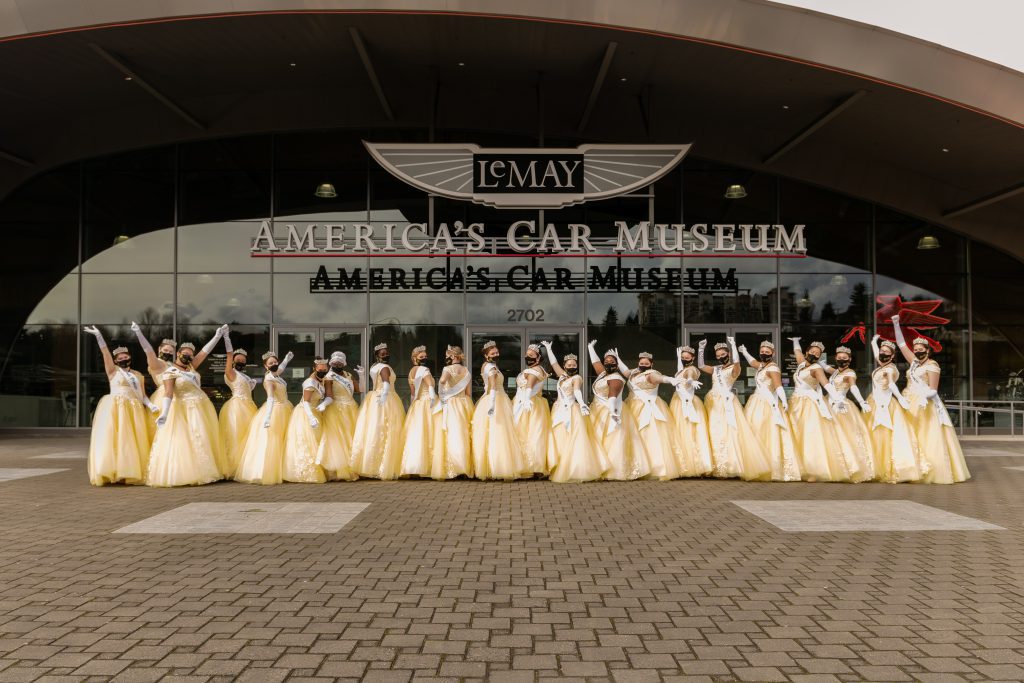 Our Daffodil Festival Royal Court isn't finished quite yet… we've got a few summer events left on the calendar through September. Keep an eye out on our Facebook and Instagram pages for the latest updates and info. We'll see you somewhere in the sunshine! Are you an incoming senior girl, hoping to get involved with the Daffodil Festival yourself? Check out the information in our "Selection" blogpost for more information on what to expect, and make sure you reach out to your school's Selection Coordinator to let them know you're interested!