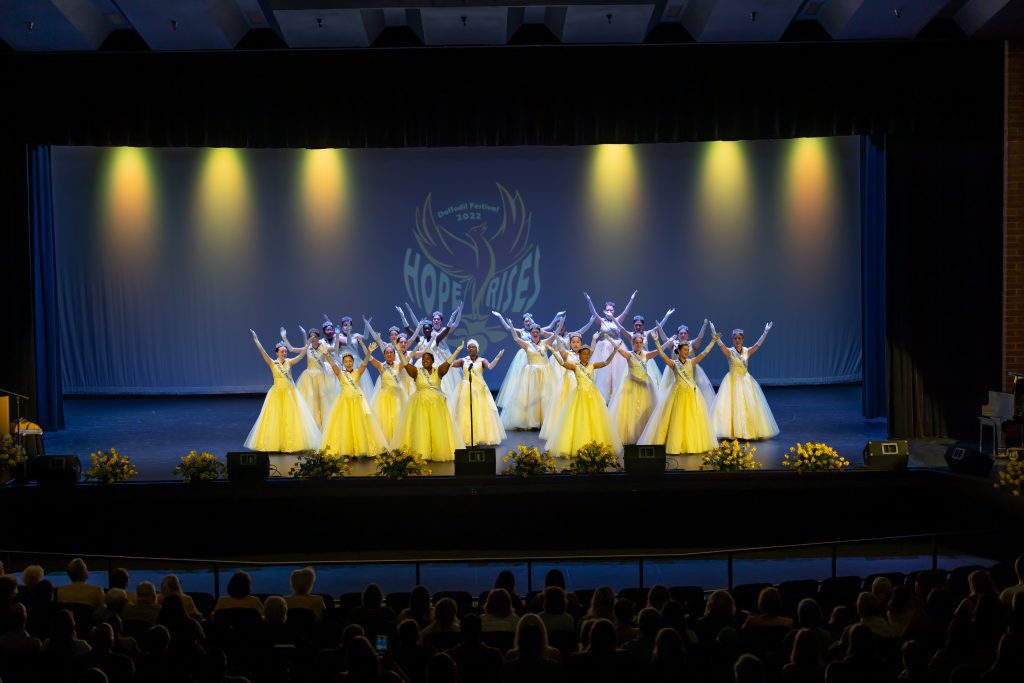 It's not every day you become Queen of the Daffodil Festival… and certainly not when, in a first of the Festival's recorded history, you earn the title of Miss Congeniality on the same night.
However, as of Sunday, March 27th, Princess Clara of Curtis High School, did just that. Now Queen Clara is ready to not only take the lead of the Grand Floral Parade on Saturday April 9th, but continue to pilot her Royal Court as they gear up for a spring and summer of local events, representing not only the Festival and their affiliated high schools, but all of Pierce County.
As it turns out, these sorts of things can happen overnight. However, to get a full understanding of Queen Clara's new reign, you might want to learn a little bit more about the night of Queen's Coronation itself. How about a quick recap?
Queen's Coronation 2022
The official Daffodil Festival Queen's Coronation took place on Sunday, March 27th, at Silas High School in Tacoma. Each of the 23 participating Princesses from this year's Royal Court took the stage, to present a one-minute speech on this year's theme, "Hope Rises," as well as answer the impromptu question: What is something you feel is unique about Pierce County?
The purpose of this annual event is not only to select a monarch from among the Court to serve as leader and figurehead of the Festival for the duration of her reign, but show off the twenty-two other amazing Princesses in action, and demonstrate how much each of them deserves the titles they've been bestowed by their schools and communities, of not only Daffodil Princesses, but Official Ambassadors of Pierce County.
This event was a celebration of our schools, in that so much of the volunteer groups that assisted in making the event special were made up of our area's youngsters. From the entertainment provided during the leadup to the event, the national anthem and presentation of the colors, and even the escorts for the evening were all students of area schools, including the Lincoln and Clover Park High School JROTCs, students from Glacier Middle School and Puyallup High School, and even more. Not to mention the event's hosting by Silas High School themselves!
The evening also saw to the end of the reign of Queen Katie Rose of Puyallup High School, who interrupted her time in the United Kingdom – studying at the University of York – in order to pass along the crown. Queen Katie Rose's cape train was supported by a lineage of monarchs, including 2019 Queen Katie Gilbert and 2017 Queen Marin Sasaki, in an emphasis of the importance of the continued legacy of the Daffodil Festival's leadership.
Queen Katie Rose was escorted by Clan Gordon Pipe Band, the official queen's guard, while musical interludes for the evening were provided by Kerry Yanasak, as he has been doing for over twenty-five years of Queen's Coronation celebrations. Not only are each of these notable musicians well-known for contributing their talents around the Pierce County area, but they are mainstays of Queen's Coronation itself, their presence lending not only an air of formality to the proceedings, but a welcome and familiar sense of occasion.
2022 Festival President Scott Dellinger kicked off the evening with his own speech, exploring his Festival theme, and why he had chosen it. In a season that, for many, has been marked by the tentative and slow return to post-coronavirus life, President Scott emphasized that it is also the perfect opportunity for our communities to come together.
The Royal Court performed this year's song-and-dance number – "Rise Up," by Andra Day – to rallying applause, and more than a few tears. Every year, the Daffodil Court performs a song-and-dance in front of audiences around the County, spreading the message of the Festival, and this year, the song was chosen to continue to promote the spirit of perseverance that President Scott has hoped to bring this year's celebrations.
The Shipmates of the Tacoma Yacht Club were on hand for the bestowal of the title of Miss Congeniality, as well as their dedicated scholarship, to the Princess chosen by her peers. The Daffodil Festival Foundation – which awards individual scholarships to all 23 members of the Daffodil Royal Court – was represented by Melanie Stambaugh, who herself was Queen of the Festival in 2009. The Queen is also bestowed an additional scholarship, courtesy of the Washington State Fair Foundation.
Further ties to the Pacific Northwest community were clear in the presence of the attendance of friends of Daffodil. Two of the evening's judges represented important relationships with some of the Festival's regional compatriots, including a past Seattle Seafair Commandant and the current Vice President of the Portland Rose Festival.
But soon enough, the time had come to crown the newest Daffodil Festival Queen.
It certainly was an evening of surprises, as for the first time in recorded history, the titles of both Miss Congeniality and Daffodil Festival Queen were awarded to the same person: Daffodil Princess Clara, of Curtis High School!
Introducing Queen Clara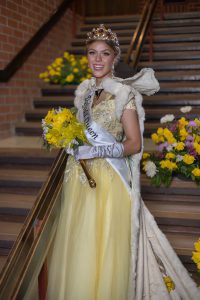 According to her impressive resume, Queen Clara enjoys school activities at Curtis High School as varied as wrestling, water polo, and swimming. She also plays the violin in Curtis's Philharmonic Orchestra, and served as a page at the Washington State Capitol in Olympia in 2020. A Running Start student at Tacoma Community College with a 3.9 GPA, Clara plans on earning a Master's degree in Speech Pathology and Audiology from a four-year university.
When preparing for Coronation, Queen Clara took the introspective route. "From both my family and my mentor, I was told to 'just be myself,' which required a lot of quiet reflection," she says. "Not only did I need to be comfortable in expressing the core of who I was, but I needed to be able to effectively express that to the members of my community, and the judges."
That community, for the night of the big event, included a large cheering section, made up of supporters close to Queen Clara's heart, including immediate family members, extended family on both her parents' sides, school coordinators, and plenty of friends. "I felt so loved by the fact that so many individuals set aside time in their day to support me in this process."
Those ties to family also played a part in the excitement of the evening, as Clara's great-aunt Gretchen Brockhoff was involved in the Festival as well: as Queen Gretchen of the 1958 Royal Court, representing Stadium High School. Now, there are two queens in the family!
But while she can acknowledge that those important family ties make her new reign all the sweeter, her motivation for running for Curtis High School's Daffodil Princess in the first place was so much more than that. "The primary goal, in whatever I do, is to love others well. While I did want to continue the tradition of Daffodil in my family, I was mostly driven by the opportunity to find a community of girls pursuing excellence in their own lives."
When discussing her time with Daffodil, and the hopes she had for her newfound royal role, there was one theme that Clara kept returning to: Love. And of the things she has found to love in Daffodil, one of the foremost is her fellow Princesses of the Daffodil Royal Court.
She describes hearing her name called for Miss Congeniality as "one of the greatest moments I have ever experienced." The reason behind this, is knowing how much her twenty-two fellow Princesses support her in this journey.
"Many times, we will only remember how people have made us feel," she says, "rather than the specific words they used. To know that the girls felt loved by me, not for their achievements, but for their character, truly meant the world."
She certainly wasn't expecting gaining the additional title of Queen after the fact. "Absolutely not," she says. "And I was okay with it! To know that the girls felt loved by me [after winning Miss Congeniality] still raced through my mind. I was more excited to cheer for someone else, which is why it absolutely dumbfounded me."
There's still a way to go with Queen Clara's reign: the Daffodil Festival Grand Floral Parade's triumphant return to the streets of Tacoma, Puyallup, Sumner, and Orting is bound to make its bountiful reintroduction after an absence of two years this upcoming April 9th. The Royal Court's schedule of events will be keeping them all busy even through the summer, until they make their way to college in the Fall. These twenty-three senior-year Springs will similarly be filled with not only graduations and final goodbyes, but appearances at local schools and community events… and that's just what's on the calendar so far.
However, leading with heart, Queen Clara is ready for the challenge.
When asked what message she hopes to impart during her reign, Clara says that her life motto of "Love intentionally, Live authentically" will provide her direction.
"Often, we believe that love is an extravagant word, but it can be extremely simple," she says. "Small actions create a big impact, consistency in action is strength. Through my reign, I hope that together we rebuild what makes us Pierce County after a time of disconnection. By putting others first through humble service, we can show our community that love wins."
You can cheer on Queen Clara and the rest of the Royal Court this coming Saturday, April 9th, as the Grand Floral Parade winds itself through the streets of Tacoma, Puyallup, Sumner, and Orting, in its grand return after two years of altered Daffodil events. Check the Daffodil Festival website, as well as our Facebook and Instagram, for more information!