The 2022 Princess Promenade will mark the beginning of a new Festival season, as Washington begins to tentatively open up again in the aftermath of Covid-19.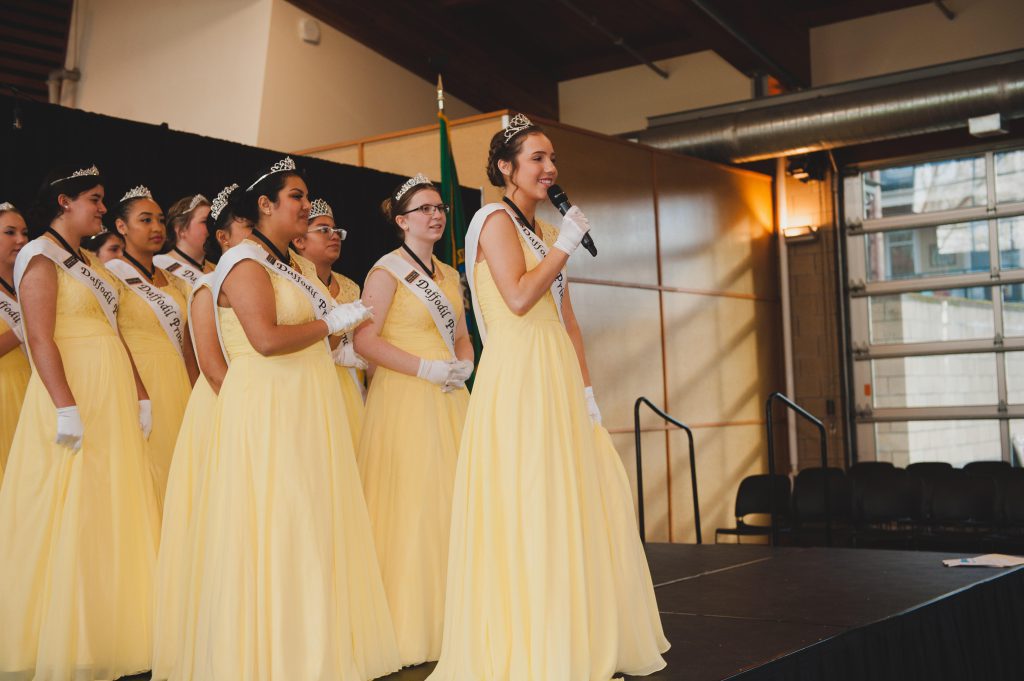 As we near the end of February, Pierce County gardeners may have already started witnessing new growth in their neighborhood beds, with the sturdy, green stalks of daffodil bulbs poking their way out into our typically inclement Washington Spring weather. The bulbs may have been planted last Fall, but they're already gearing up for the sunshine they know will eventually arrive.
So, too, the 2022 Daffodil Festival Princess Candidates – originally selected at their schools back in October and November – are ready for their own grand entrance into the festival season.
This coming Sunday, February 27th, will see the fresh batch of royalty take the stage at Pioneer Park Pavilion in Puyallup. Courtesy of a large antique sword, some important words spoken by the Daffodil Festival president, and the bestowal of the iconic golden Daffodil pins, they will be officially designated as Princesses of the 2022 Royal Court. It's a night of firsts for these influential high school seniors, as it serves as their first public entrance into the community, the first opportunity to show off their song and dance, and the first time the Court will wear those iconic yellow dresses alongside their tiaras and sashes as a group.
But while it's a day of firsts for them, the Daffodil Festival itself has been doing this for a very long time. If anything, the event will signify an important return to standard, one that has been thrust into jeopardy over the past two years of forced cancellations, public health considerations, and the ongoing difficulties of the Covid-19 pandemic.
Pelumi Ajibade, Daffodilian and Festival Vice President of Membership and Events, is taking on the challenge of this year's Princess Promenade, by balancing out the precautions that have been put in place for the last year, while also attempting to move back into the Festival's traditional celebrations.
It's also her first year holding the position.
Being VP of Membership and Events means taking on a large scope of responsibility to prepare for some of the Festival's most important yearly celebrations, as well as maintaining ties with Daffodilians and Festival alumnae. It's also a title in flux, one that is managing to find new means of existing in both a Covid and post-Covid world.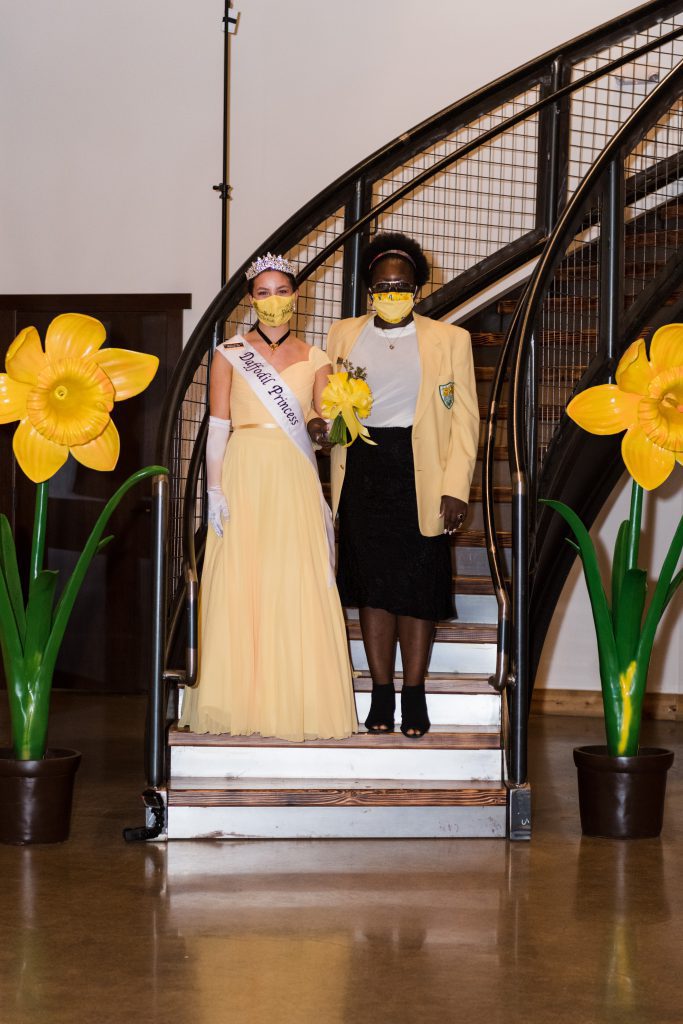 "The job encapsulates a lot, and this year, we are working on truly fleshing out what that means and how best to achieve it," says Ajibade. "For right now, I work on all correspondence with the big events that we put on… like Promenade, Coronation, and Princess Tea. I am also involved in keeping tabs on membership and helping with recruitment and retaining efforts. It's a little broad, but I find it really fulfilling to be part of the events that people so look forward to."
Princess Promenade is a notable event on the Festival calendar, as it is this entry point – not the School Selections in the Fall, or the Queen's Coronation in March – that serves as the official kickoff for the Daffodil Royal Court to engage with the community as a unit. After this point, they begin appearing at various events throughout the Pacific Northwest through Spring and Summer, as not just Princesses, but Pierce County's "Official Ambassadors." But for those outside the Festival landscape, it might be difficult to understand the significance.
After all, what makes some random Sunday in February so important?
"Oh, why isn't it important?" Ajibade can't help but exclaim. "It is the culmination of all the hard work that the girls have been putting in for the last two months."
Princess Practices – the regular Saturday morning meetings Princess Candidates have been attending through January and February – have seen these burgeoning local leaders instructed in the ways of the Daffodil Royal Court, including public speaking, professional development skills, confidence-building activities, and appearances training. They also learn local Festival history, as well as the annual song-and-dance routine, a tradition that changes in accordance with the Festival's yearly theme, and which they perform regularly at various community events.
For Daffodilians like Ajibade, this moment is one to acknowledge the Royal Court's hard work, as well as look forward to the work they will continue to do in their communities throughout the year. "Promenade is… the moment of recognition that they deserve. They go in front of their own family, and are inducted into the big yellow family. Now with access to a group of wonderful women and a program that will continue to support them, Promenade is the moment, and I hope that is reflected to those who witness it."
But after two years of planning Festival events – as well as cancelling a few, including the 2020 Grand Floral Parade, for the first time since WWII – Covid-19 is still very much a consideration in planning, even as Pierce County appears to creep towards an eventual return to normalcy. Keeping community health considerations in mind is of the utmost priority, especially as it pertains to ensuring that this year's Royal Court will have as many opportunities as possible to engage with their biggest fans.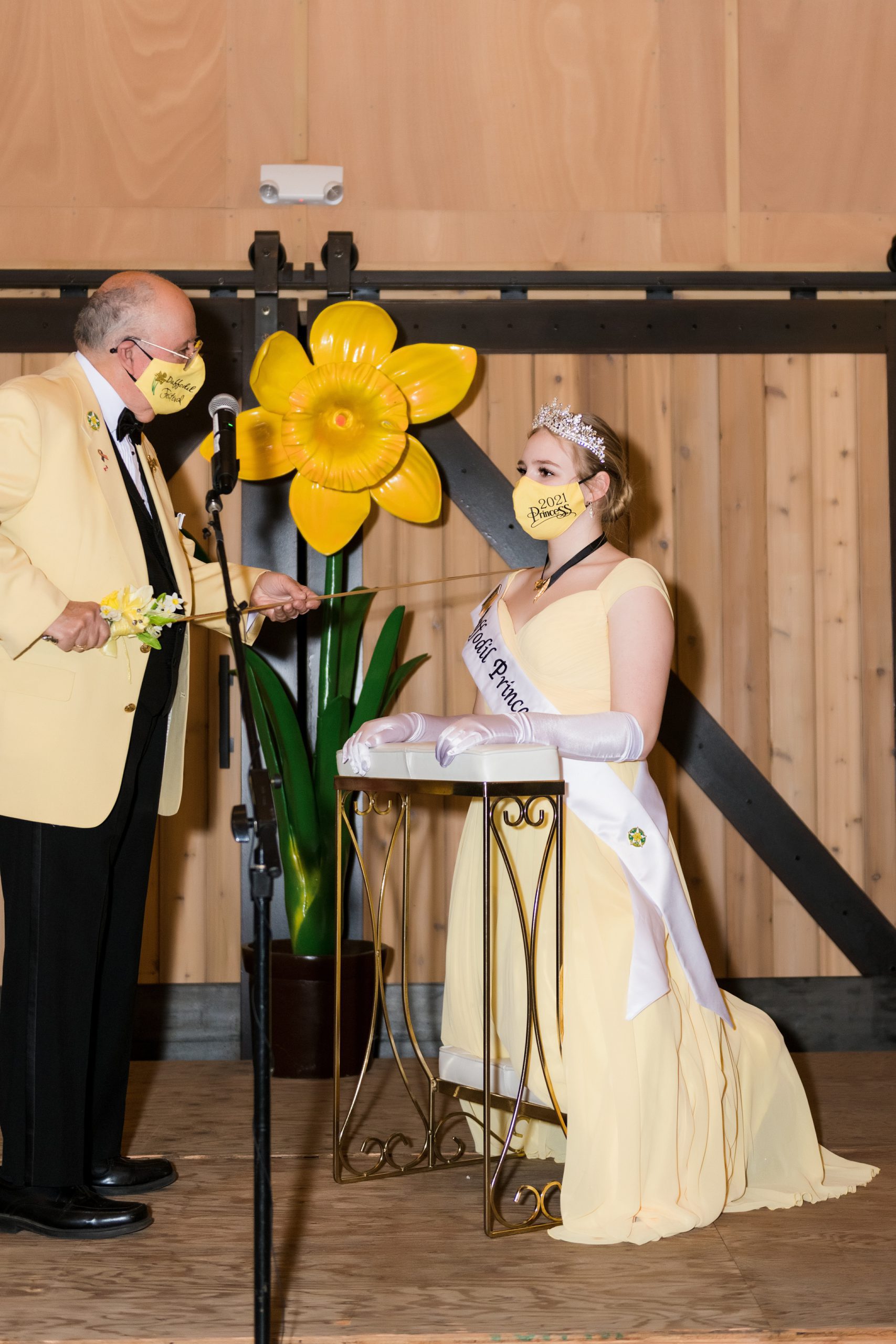 "We have had about a couple years of pivoting around the pandemic, and trying to work out what is appropriate at all the events we are trying to plan… For Promenade, we thought about the importance of safety and giving the girls a moment to be celebrated."
In a realistic sense, that means limiting attendance to Princesses' select family members, maintaining masking requirements, and social distancing. While some regular Festival relations – like representatives from the Tacoma Yacht Club, Daffodil Scholarship Foundation, and other notable local dignitaries – will be in attendance, the event is not open to the public. A livestream link is being supplied to the Royal Court's extended families and friends, so they can witness their Princesses' achievements from a safe and crowd-manageable distance.
"With that in mind, we have tried to limit the number of people allowed to family members and coordinators, strictly enforcing our masks policy, and working to make sure people are adequately spaced out and sitting with family and close friends. We are also monitoring health rules and trends and feel confident, because we can see a downward spike in infections and hospitalizations."
In a way, this careful planning has resulted in some of the most significant difficulties for Ajibade in managing the event. "I have a desire to make this grand and beautiful," she says. "The hardest part has been trying to make sure that all the different parts can work together. I am working on making sure the legacy of a beautiful event is successful."
It is notable that this tentative return to normalcy coincides with the 2022 theme chosen by this year's Daffodil Festival President, Scott Dellinger: "Hope Rises." For Ajibade, the significance of this choice is a part of every element of Promenade planning.
"Our ability to even have the ceremony is giving me hope," she says. "We have had to do without a song and dance for the last year because of restrictions, and while that is not all we are about, it is a bonding experience that cannot be replicated [among the Court]. Being able to continue that time-honored tradition is so heartfelt to me, and a reminder that things are hopefully finding their footing again."
Still curious about the history of Promenade? Check out this article, posted on the blog last year.
The Daffodil Festival Princess Promenade will take place this coming Sunday, February 27th, at Pioneer Park Pavilion in Puyallup. As a reminder, the event is not open to the public; however, make sure you are following The Daffodil Festival on social media for exclusive information and coverage of the event, including the 2022 Daffodil Princess Dress Reveal!
As the Festival season gets underway, mark your calendars now for exciting events coming up in short order: Queen's Coronation will be taking place on March 27th, at Silas High School, and the Grand Floral Parade is scheduled to travel through the four Pierce County cities of Tacoma, Puyallup, Sumner and Orting on Saturday, April 9th.
More details on these and other such events – including the Junior Daffodil Parade, TYC Marine Parade, and the Princess Tea – should be released shortly, so make sure you are following the Daffodil Festival on Facebook and Instagram for the most up-to-date information!