As an organization that has been in motion in Pierce County for nearly a century, you might imagine that it takes a lot of work to look this good! Because April is National Volunteer Month, we wanted to take the opportunity to thank some of the wonderful people who make The Daffodil Festival such an incredible family and network of volunteers… and fresh off the heels of the 2022 Daffodil Grand Floral Parade, we thought it was only fitting to showcase our fearless leader, 2022 Festival President, Scott Dellinger!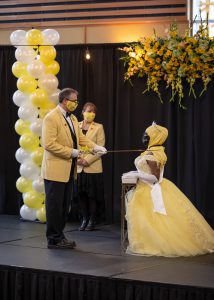 This is what 2017 Festival Queen and current Daffodilian Marin Sasaki had to say about Scott, in a recent issue of our monthly newsletter, The Bulb:  "Scott has been involved with the Daffodil Festival since 2009, when his daughter, Maili, was selected as Lakes High School's Daffodil Princess. The transition from proud parent to Daffodil volunteer occurred when Brad Stevens encouraged Scott to join him on the Float Crew. Scott immediately found himself hooked, and has been a proud and involved Daffodilian ever since! A Pierce County resident since 1985, Scott and his family greatly enjoy the small-town feel our community provides. After retiring from a 32-year career in the military in 2019, Scott now works full time for the Puget Sound Fire Department. Scott plays bagpipes for the Fire Dept. Band, recently taking up drums for longtime friends of the Festival, the Clan Gordon Pipe Band! While he now serves in the coveted role of President, Scott's involvement within the Daffodil Festival extends from a member of the Float Crew to acting Float Crew Director over the past decade plus, while also working alongside his wife, Sue, in her many roles within the Festival. Scott states that even if individuals hold a certain title within the Festival, everyone works together and backs each other up to fill in the gaps. When asked why he wanted to be the Festival President, Scott said he felt that it was his turn to step up. Having been involved with the Festival since 2009, he wants to see it grow back to what it used to be. "It's a great organization, and I want to keep it great," Scott said. Scott is most excited and hopeful to have more in-person events and royalty appearances this year. He hopes to spread the Daffodil Festival name and reestablish lost connections by encouraging even more opportunities for the 2022 Princesses to go out in the community, interacting with the kids and families of Pierce County. The Daffodil Festival President selects the theme each year, and has chosen 'Hope Rises' for the 2022 Daffodil Season. Scott landed on this theme after thinking back to his first Daffodil volunteer meeting, that was packed with people interested in helping out the Festival. Now, there are only a few handfuls of dedicated volunteers who work tirelessly to keep the Daffodil Festival alive. To Scott, "Hope Rises" means regrowing the Daffodil Festival back to what it used to be; re-establishing connections from the past and building relationships for the future. Like a phoenix rising from the ashes, President Scott Dellinger is committed to rebuild the Daffodil community after years of hardship. We are excited to see where 2022 takes us!"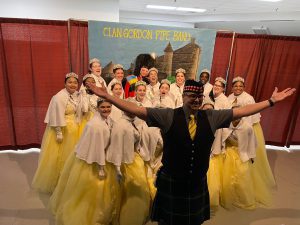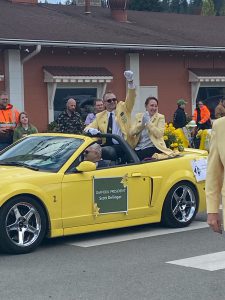 However, Marin's not the only one with nice things to say about Scott's current reign, or the presence of First Lady Sue, in regards to the Dellinger family's continued involvement with the Daffodil Festival. We also asked 2009 Lakes Princess Maili Dellinger, about what it means to her to have parents that have poured their heart and soul into this Festival, too: "My parents have always been willing to donate whatever time, energy, talent, and resources they have available – they are the epitome of dedicated volunteers seeking to better the lives of others. While I knew my parents would likely remain a part of the Daffodil Festival after my year as a princess was over, I had no idea just how involved they would become. My parents have worn many different hats throughout the years, but with my dad serving as president for 2022, I get the opportunity to see his visions for the festival come to life. I am so proud to witness them constantly inspiring hope and making a difference not only within the Daffodil Festival, within our local communities as well. Their hard work continuously leaves me in awe. I am honored to be their daughter and to be reminded of how joyous the gift of giving can truly be!" President Scott's reign isn't over just yet: he's still got a summer full of events to lead the Festival through, before we start a new Festival season in the Fall. We are so happy to have such a wonderful community representative leading our big yellow family, and thank him for the hard work and commitment he has brought to the role. Thank you, Scott!  Looking for a chance to meet President Scott, or the yellow Princesses of our Royal Court, for yourself? Check out our Facebook and Instagram pages for the most current information about events and appearances throughout Spring and Summer. And didn't you love what beautiful words Marin wrote in The Bulb? You can get signed up for our monthly newsletters yourself, by getting involved with the Festival and filling out your information on the "Get Involved" page of our website!