Sponsor a Daffodil Princess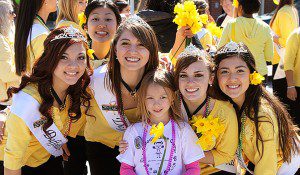 Would you like to sponsor a princess by purchasing her entire outfit for the season? Do you have a favorite school you would like to sponsor? Is there a message we can pass on to your princess?
Your princess will proudly wear her regalia to most appearances for the entire season. If you have never witnessed the glowing impression a Daffodil Princess has on a child, it is a sight to behold!  We would love to promote you,  your school or business as a sponsor on our website, instagram, facebook, and other social media outlets.