The Daffodil Festival has long been a celebration of the beautiful flowers that once grew throughout the Puyallup Valley, but back in March of 2020, all that seemed to be growing locally was a state of uncertainty: with Covid-19 case numbers rising and schools, businesses, and more closing up shop, many were left without much to do, besides sit and wait.
That Spring and Summer, we missed out on not only Festival events – including Coronation and, for the first time since WWII, the Grand Floral Parade – but also seeing our Princesses graduate high school, and venture off to college. By that Fall, our normal Selection season was pushed back, as well, with Daffodilians working overtime to coordinate Zoom-facilitated events with each school instead, for the purpose of constructing a 2021 Royal Court.
However, as our community continued to try and not only heal, but adapt to a new way of thinking, getting back on track to our normal event season was no easy feat… especially as the resulting economic downturn left many without the means to do so. And unfortunately, those left a little behind included the Daffodil Festival.
The Daffodil Festival relies on homegrown support to fund its yearly events, through donations, grants, and other forms of financial input. That meant that as the families and businesses of Pierce County were forced to grapple with recovering from the pandemic, so were we.
However, like the rest of our community, we weren't about to wait around for a rescue. It had taken a little bit of technological adaptation to do so, but we had finally found our Princesses, after all! We had already seen how they served their schools and neighborhoods, were respected as local leaders, and were ready and willing to show the rest of Pierce County a little bit of much-needed sunshine. All they needed were the yellow gowns to do it.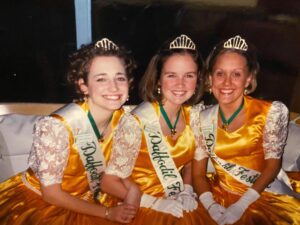 Unfortunately, royalty can be costly… especially when you have 23 Princesses to outfit for various events and appearances. As "Official Ambassadors of Pierce County," our Royal Court always has to look their best, whether it's at local schools and library readings, or as far away as neighboring Festivals and out-of-town parades take us. That means not only the yellow dresses for which our Princesses are so easily recognizable, but also a tiara, a sash and nametag that displays their names and schools, jewelry and gloves, and even character shoes. Most importantly, it also includes the golden daffodil pins worn by our Court proudly over their hearts, heirloom pieces that our Royalty continue to wear at events long into the future, in recognition of their time with the Festival.
Because of these important costs, we implemented the first "Sponsor a Princess" campaign last year, in the early days of 2021. The Daffodil Festival has always done its best to uplift and celebrate the amazing and diverse communities that make up Pierce County, and we were overjoyed to see the power our fellow citizens put in in order to help us continue to do just that, as this campaign quickly secured us the financial support necessary to equip each Princess with each of these all-too important items.
This meant that when it came time to rally the forces again for our 2022 Court, we knew exactly who to trust, in order to get our newly-minted Princesses into proper attire. And for the second year in a row, the community responded with a heartfelt "YES!"
Here are some of the 2022 stats for you:
Total cost to fund a Princess' full ensemble: $590
Total cost for the Court: $13,570
Days from first social media post to full funding: From January 14th to 29th… about 15 days!
Highest number of Facebook shares: 71, on January 23rd
Total funds raised: $15,331!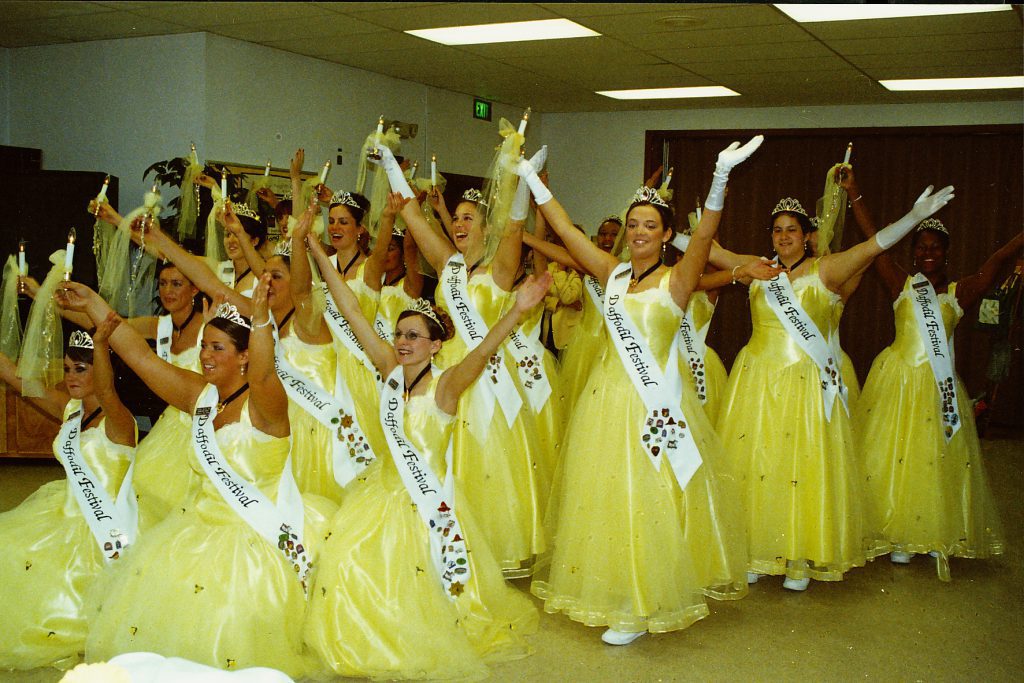 With all of this excitement, of course, came plenty of questions. For starters, what if we hadn't been able to reach our financial goals?
The important thing is that at no point would it fall onto the shoulders of our Princesses. While it may have been done differently in the past – notably, during the 1980s, when there were occasions where Royalty were asked to secure their own attire… even for the Parade! – under current Daffodil structure, Royalty are not responsible for any part of their own public attire. This allows us to keep treatment fair and equitable amongst the many different socioeconomic backgrounds of our Princesses, as well as ensure that no matter where they go or asked to do, everyone sets off on the right, properly-outfitted foot.
Why would you consider constructing a sponsorship campaign like this anyways, with various costs affiliated with shoes, tiaras, and more?
Well, in short, because the public has been asking for something like this for a long time: it feels like that as long as there's been a Festival, there have been philanthropically minded citizens looking to partake in our signature traditions!
There have been plenty of occasions where Daffodilians were asked if there was a means of donating specific signature items, like purchasing jewelry or gloves for the entire court, and whether there were options for funding those beautiful yellow dresses that have become so important to community image. For many, this form of giving feels more tangible: while giving a general donation is generous and appreciated, it feels less direct than knowing the exact amount of money being donated will be going to the character shoes that keep a Princess dancing comfortably through yet another song at the annual Princess Tea, or the tiara that manages to hold the attention of an entire room full of eight-year-olds during a school classroom visit.
Most importantly, it was a means to help people come together: the origins for those who've donated to the "Sponsor a Princess" campaign range from friends and family seeking to support those they love on the incoming Court, alumnae interested in continuing the legacy of the Daffodil Princesses in their home county, local leaders and businesses who see and appreciate the work the Festival does year-round, and more.
And of course, now that it's all over, what are you doing next?
Looking towards next year, of course! Any overflow funding gained through the Princess campaign will not only be used to continue to facilitate the experiences of the 2022 Court, but also set the next year's 2023 Court up for success, as well.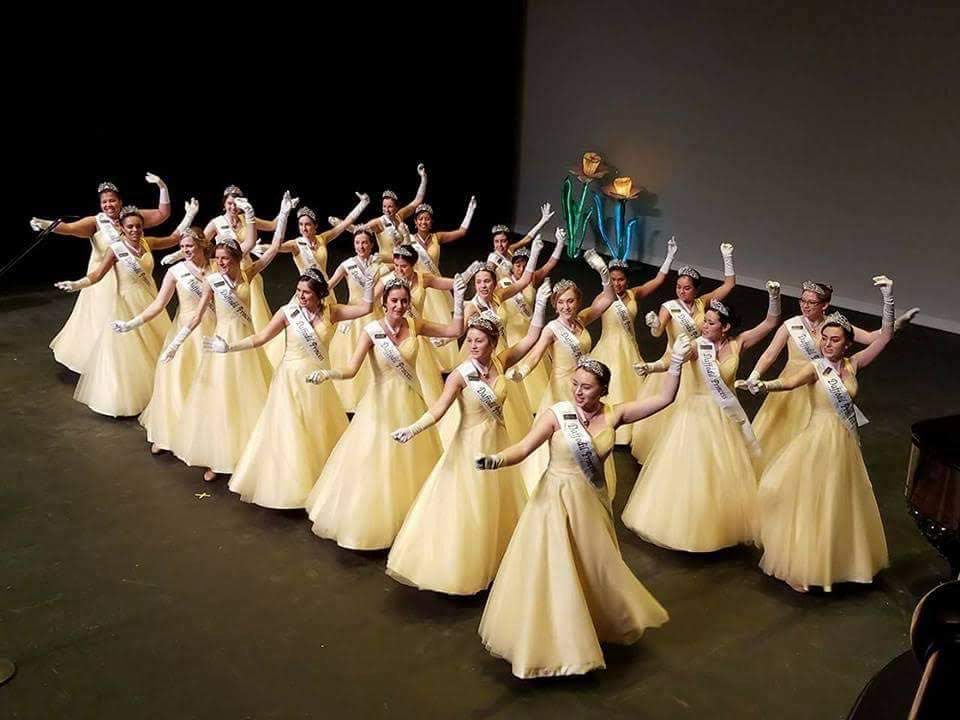 Needless to say, we have been completely blown away by the continued generosity and support of the beautiful county our Festival does our best to celebrate every single year. While the knowledge that the 2022 Royal Court is taken care of is immensely rewarding in itself, by far the most beautiful part of the experience, were all of your messages of support and kindness that accompanied each donation. Be it by shares and comments on Facebook, or the donations made through the Festival website, each of the responses we gathered from the friends, partners, and more who took the time to reach out, meant the world to us.
You can see the 2022 Royal Court for yourself – as well as their gowns, nametags, tiaras, gloves, and more – coming to local community events near you soon!
Make sure you add the 2022 Grand Floral Parade to your calendar, too, as we hope to venture through Tacoma, Puyallup, Sumner, and Orting with our big yellow floats on Saturday, April 9th. We can't wait to see you there, too!