The Daffodil Festival proudly presents our 81st Annual Daffodil Festival to Pierce County in 2014.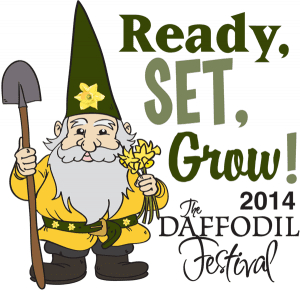 As the President of the Daffodil Festival, I have the honor of selecting the theme for our 81st year.
"Ready, Set, Grow!".
I do enjoy working outside in my garden, but the real meaning of this theme is rooted in my passion to guide each and every girl through the process that brings forth a Princess of the Daffodil Festival.
Ready, Set, Grow… is a fundamental truth of life.  Ask any daffodil farmer or gardener and they will tell you that each year come fall, the bulbs are carefully made READY, and they SET them into the ground.
Then, we patiently wait.
In spring, we watch for that first tender green shoot as the first sign that our bulbs have begun to GROW.
I am so very excited to share this year with you, as we grow together in service to our community.  We will present 24 outstanding Daffodil Princesses in the spring to continue our tradition serving Pierce County as their official Ambassadors
Sincerely,
Judy Smith
2014 Daffodil Festival President