Celebrating Military Service Parade and Concert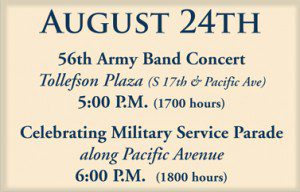 Many decades ago, Tacoma hosted Armed Forces Day parades through downtown, and now The Daffodil Festival is proud to re-establish a new tradition with the 1st annual "Celebrating Military Service" Parade. The purpose of the parade is to celebrate and honor the large number of active duty and retired veterans living in and around Pierce County. This event is purposely not scheduled around a holiday or homecoming, but rather on a special August evening honoring those from military service.
Pierce County is home to the largest joint base in the country. With more than 44,000 active military personal on base, JBLM is, by far, the largest employer in the county. With a base population of more than 100,000 people, added to the large number of veterans and veterans' groups in the area, this county needs a signature military event.
Spectator Information
(updated on 8/20)
Parade Application - CLOSED for 2013
(Application and Rules and Regulations)
The Parade will feature entries from:
Army, Navy, Air Force, Marines, Coast Guard, Air Force Reserves, Bands, VIP's, Army National Guard, Navy Reserves, Washington Air National Guard, Motorcycles, Police, Washington National Guard, Patriot Guard, Canadian Regiments, American Legion, Floats, Military Vehicles, Veteran Organizations, Historical Vehicles, Mounted Units.
An evening to honor those who deserve it the most.